To ensure that diverse and complex equipment in large plants function properly, it is important to perform equipment and component analysis. From this analysis, optimized maintenance strategies are developed to enhance reliability and reduce operating costs. Specifically, Dreamsoftware's RCM analysis solution, R.Care, is used to improve reliability, cost-effectiveness, and safety of equipment by providing modern, systematic, and scientific consulting services.
RCM Consulting Process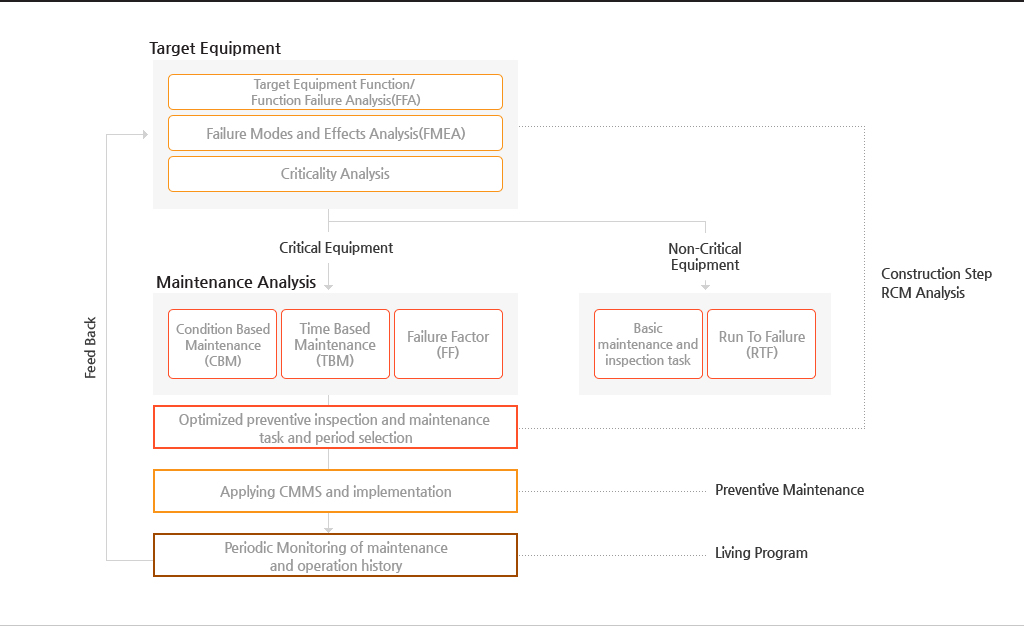 Asset registration implementation
Asset registration implementation is a process in which equipment-specific maintenance and failure history, costs, and safety information are used as a basis for equipment RCM
analysis, classify equipment items by hierarchy, and collect relevant data.
Function and functional failure examination
Function and functional failure examination are processes in which functions of equipment are analyzed, internal and external interfaces, and boundaries are clarified, and possible
functional failures are examined.
FMEA(Failure Modes and Effects Analysis)
FMEA (Failure Modes and Effects Analysis) is a process in which failure modes and failure effects are analyzed from basic data. FMEA interprets the effect of an equipment's component
on the failure type and the host equipment/production to prove systematically a casual effect between failures. Also, in this method, potential faults of key components of equipment
can be found at an early stage, and an optimized preventive maintenance work process is made possible.
Criticality analysis
Criticality analysis is a process in which criticality of equipment is defined in accordance with the customer's safety, environment, and financial loss risk allowance. Equipment with low
criticality use an RTF (post maintenance) assessment while for those with high criticality, failure cause is analyzed to determine the maintenance work process.
Maintenance work selection
In this process, failure mode, effect, and cause are analyzed for major equipment using RCM analysis to determine the maintenance work processes. The RCM analysis can prevent or
predict failures on the basis of a standardized maintenance work process and cycle period. Comparing preventive maintenance and inspection items and the cycle periods of work
processes recommended as a result of RCM analysis to existing work processes and those recommended by the manufacturer may determine the optimized cycle and maintenance work processes.
Living RCM
Living RCM is a process in which the cycle and work history of equipment subject to preventive inspection/maintenance is managed to examine whether maintenance work process is
performed effectively in a proper cycle. Failure causes by failure mode, and average failure cycle of each piece of equipment is statistically analyzed and the results help develop a more
precise and effective preventive inspection and maintenance plan.