Are you still urgent to fix after the failure?
Now we need to plan preventive maintenance strategies and a systematic maintenance management in facility management. JUMP is professional maintenance management service by the cloud-based organic integration of dispersed information of information and facility and various equipment management activities that support standardization and maximize efficiency. You can experience the smart facility management than ever before through the JUMP.
Jump Homepage
JUMP Service Composition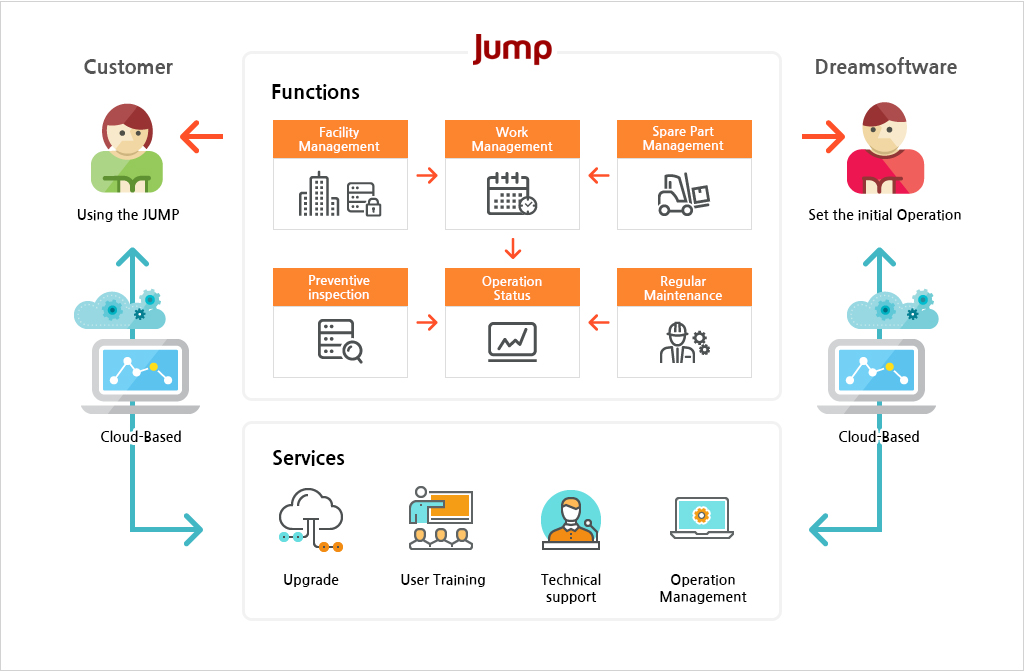 Superior Technology
JUMP is a longtime technology and know-how of a leader in the field of facility management system of Dreamsoftware intensive services.
Professional Data Consulting
JUMP is to ensure the reliability and high utilization of the FMS with the assistance of expert consultants and provide standardized data templates.
Low Costs of building
JUMP will pay only affordable monthly fee without buying a separate H/W, S/W as a Cloud-based service, so you can minimize the initial investment.
Simple to use
JUMP provides an intuitive UI and easy to use even if a person face the first FMS easy to learn.
JUMP Service Applications Area

Factory

Apartment

Hospital

Public Facilities

School

Leisure Facilities

Facility Management Office

Others