R.Care is an RCM analysis solution that supports the ability to determine possible failure modes and causes. R.Care helps to select the optimal regular equipment maintenance and preventive maintenance strategies. Optimal strategies are derived using a detailed analysis of specific equipment maintenance characteristics of large plants, such as refineries, petrochemical plants and power plants. The equipment is also analyzed on the basis of the characteristics of the operating environment and functional criticality to ensure equipment functionality is maintained efficiently, economically and effectively.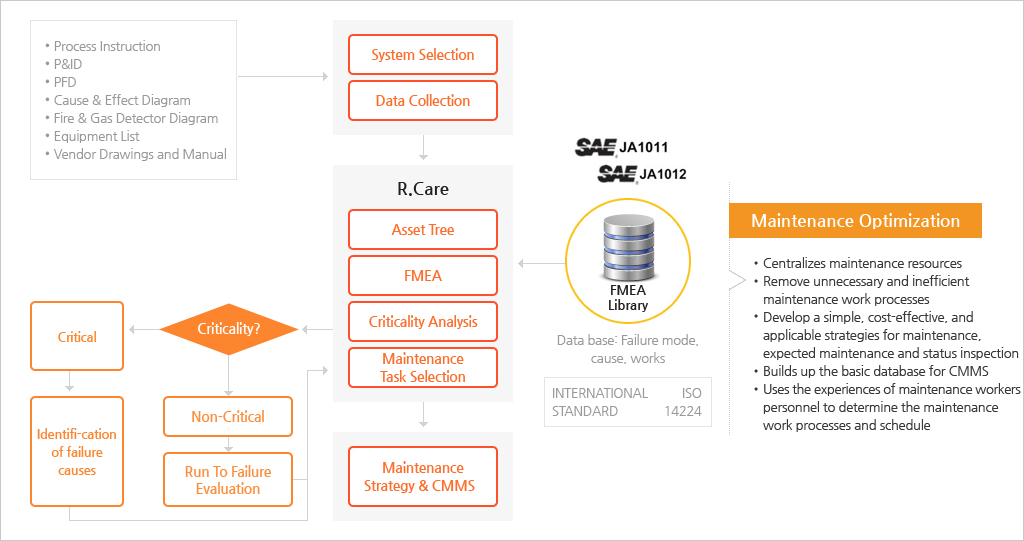 Key Functions
Asset Tree
Asset Tree
Manages the hierarchal structure of the system to be analyzed
Provides information on listed equipment
FMEA
Failure Modes & Effects Analysis (FMEA)
'FMEA Library' is used to manage failure modes and failure effects of equipment.
Criticality Analysis
Criticality Analysis
Matrix to assess criticality of equipment
Non-critical assessment is carried out to make a decision on preventive maintenance work processes and begin failure management
Maintenance Task Selection
Maintenance Task Selection
Preventive maintenance work processes, maintenance cycle periods, responsible department assignment, and duration are managed using FMEA
To prepare for a successful R.Care implementation, RCM consulting should be performed first.